Recently, Lilah was asked to be a flower girl in a wedding at the end of this month. The bride is really laid back, and said just to get her any old cute dress and it would be fine, but when there was extra fabric leftover from the bridesmaids' tops, we knew we had to try and make Lilah's dress to match.
Luckily for me, I already had the perfect pattern: New Look 6448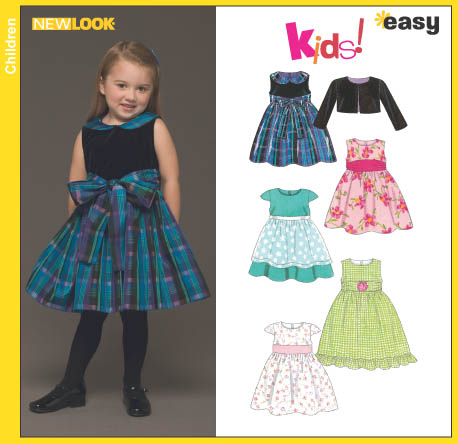 I had purchased this pattern about five years ago when Ben and I first got engaged and were discussing wedding plans. I knew that I wanted a friend's twin daughters to be our flower girls, and I knew their mother sewed like a champ, so I wanted to go ahead and have the pattern picked out so I could save the time later on. And of course, as it happened, we had such a small wedding that there was no flower girl and so this pattern has just been sitting in my pattern box since 2005.
Until now!
I'm choosing the view shown above by the sleeveless pink floral dress with the dark pink sash and, the greatest thing about the pattern is that for this view, there are literally six pieces. That's it! Six pattern pieces!! Six pieces is right up my alley!
What is not up my alley is the fact that I have to put in a zipper and the super delicate silk of which there is not enough for second chances. So I have to be so,
sew
careful! Do you feel the pressure??? I have also decided - in my infinite wisdom and propensity to create projects where I need none - that I am going to sew a little pair of slippers out of the scrap fabric so I don't have to buy a pair of ivory shoes that she will likely wear just this one time and then grow out of before warmer weather and other dresses that would match them.
But - as long as I don't totally mess it up - it is going to be STUNNING. It is ivory dupioni, and the sash and matching jacket (which she'll only wear if it's cold) is going to be a pale, peachy/coraly satin. It is going to be lined with a simple ivory colored batiste. It is going to be amazing.
*If I don't mess it up.*
Currently, Google is my best friend as I look up tips and tricks for sewing on dupioni.
Anyone have any tips for sewing on delicate fabrics? "The Google" says I'll want to be sure I use a supersharp needle and make extra reinforced seams.
I have a feeling I'll be ok, right up til I get to that zipper.
*shakes fist at sky*